---
Database scheme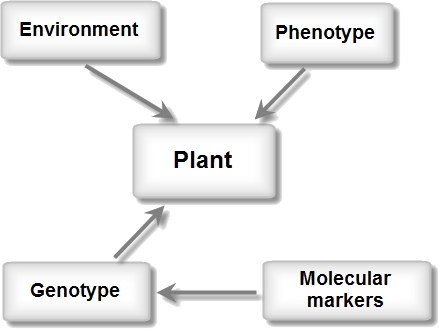 The database contain three main modules describing genotype, phenotype and environment conditions. All the information in these modules is linked via the plant table. The plant is described as the set of phenotypic traits, genotype parameters and environment conditions.

Genotype description includes: plant cultivar, line, parent genotypes, generation for the hybrid plants. Additionally the information about genetic markers is linked to the genotype data.

Phenotype description currently includes: leaf hairiness morphology (trichome density, trichome length distribution). The system allow creating various types of relationships. Each type can describe specific phenotype trait.

Environment description includes: place of growth (greenhouse or field), mean temperature, date of seed sowing etc.
List of available fields
Genotype
Sowing number
Genotype name
Cultivar
Line
First parent
Second parent
Hybrid status

Molecular markers
Markers data
Marker name
Chromosome
Marker type
Marker localization
Marker state name
Marker state value
Phenotype
Basic morphological traits
Stem length
Ear count
Seed count
Seed mass
Mass of 1000 seeds
Seed gluten content
Seed glossiness
Fertility

Development stages
Seeding date
Germination date
Tillering date
Shooting date
Earing date
Flowering date
Seed maturing date

Ears
Main or not
Ear length
Spiklet count
Density index
Seed count
Seed mass
Mass of 1000 seeds
Shape type
Date

Leaves
Number
Relative water content
Blade width
Blade length
Blade thickness

Hairiness
Leaf number
Leaf section
Leaf type
Shot
Lhdetect data

Environment
Grow place
Location latitude
Location longitude
Climat type
Average annual temperature
Average annual precipitation
Average temperature in january
Average temperature in july

© 2009–2019 wheatdb.org